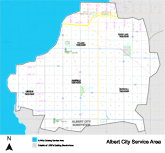 Click on image to view larger image in PDF format.
The Albert City Service Area Expansion project includes residents or locations in the white area on the map to the left.
Serving this area with rural water has had the interest of some residents, however, more interest is needed to move the project forward. ILRW continues to encourage sign-ups from the area.
Supplementary Information (PDF):